Web 2.5?? A Transition from Web 2.0 to Web 3.0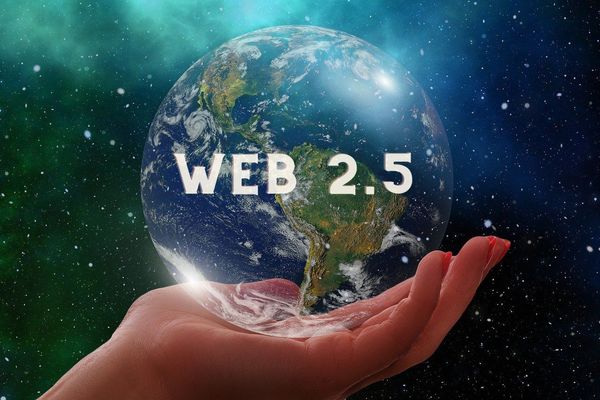 With the changes in technology, we are witnessing a shift from Web 1.0 to 3.0.
The evolution of the Internet has gone beyond just providing access but now it's all about choice and control for consumers with data being at their disposal -- which they can use wisely when making decisions on what corporations need to make available or sell them products that suit their needs best through decentralized systems powered by artificial intelligence (AI).
Here's a simple illustration…
In Web 1, consumers had no choice but find whatever material was in front of them.
With Web 2, came Google, Facebook, and other major corporations deciding what content and products would be available for consumption and distribution.
In Web 3, we see a more decentralized internet with users taking back their power to control data and allowing users to connect deeper level. This is done through new technologies like Blockchain and Cryptocurrencies that place power, transparency, and security at the heart of every transaction. This is also where we see a new level of immersive interaction and engagement in a whole new space called the Metaverse.
While there are many people still confused with the term Web 3.0, another new term popping up… Web 2.5! Web 3.0 is considered to be the next generation of the Internet, but what exactly is web 2.5?
First, we need to understand web 2.0 and web 3.0
The significant difference between web 2.0 and web 3.0 is that web 3.0 clarifies content ownership of users who create it and allocates benefits to them according to how much their content contributes to the Internet.
In other words, rather than data being owned by the network, Web 3.0 allows data to be owned by an entity whilst being shared amongst the network.
There are also no permissions required to utilize services provided within Web 3.0.
This is where Web 2.5 comes in.
What is Web 2.5?
Web 2.5 describes the reality of a transition period between Web 2.0 and Web 3.0.
During this transition phase, innovative companies, communities, and creators are redefining value.  Brands are trying to figure out and explore Web 3.0. We are already seeing early adoption by certain brands in the Web 3.0 space.
Serotonin's vice president, Everett Muzzy said that web 2.5 is the gate to web 3.0, which combines centralization and decentralization. It will take time for the transition from Web 2.0 to Web 3.0 to be achieved.
Which brings us to…
What are some of the challenges of bridging the gap between Web 2 & Web 3?
#1 Lack of awareness and understanding about Web 3.0 and how it can be used
Everyone is familiar and feels safer with Web 2.0.
With new technology, comes doubt and stigma.
Because Web 3.0 is like a new language, many are still feeling skeptical and sitting on the fence. We all need to open to learning so our lives can continue evolving in this rapidly changing world, but many people don't understand what it actually means or how they should be using these technologies anyway!
That's why EDUCATION on Web 2.0 – Web 3.0 will help people grow with the understanding of its potential benefits and transformations for capacities as well.
If you're new to Web 3.0, get yourself educated as much as possible by attending events/webinars and speaking to Web 3.0 experts.
Consortium 21 has been conducting a series of Web 3.0 webinars, mainly about Metaverse. On 15 August, Consortium 21's CTO, Wilson Tay, will share his insights on the latest trends and opportunities in the Web 3.0 space. This will provide you with an informed decision about switching your business to Web 3.0. Click here to register for the Exclusive Webinar.
#2 Infrastructures
To capitalize on the opportunities presented by Web 3.0 technology, new channels and infrastructure will need to be built for potential revenue streams … especially content, products, and ultimate user experiences.
This requires expert builders of Web 3.0 technology.
If your business thinks Web 3.0 technology is too difficult, you can take advantage of a pre-built Web 3.0 platform such as Consortium 21 Metaverse cities which provides ready-made cities for retail businesses. Consortium 21 has also cracked the code in Web 3.0 space by providing NFT solutions for businesses.
If you're interested to explore collaboration in the Metaverse space or get your business presence in Consortium 21 Metaverse Cities, reach out to us via email: admin@consortium21.com
#3 The need for NEW business models that can support the infrastructure and development of Web 3.0 applications.
#4 Privacy and Security concerns that need to be addressed in order to build trust with users.
With all of these challenges in mind, it's clear that there's a lot of work to be done in order to make Web 3.0 a reality. But the potential benefits are too great to ignore and with the right approach, we can make this happen!
Hope this post gives you great insights about Web 2.5… and addresses the transition challenges for your business from Web 2.0 to Web 3.0, with its many benefits.
Join our Telegram community for news, giveaways, insights from experts about MarTech, web 3.0, and more exciting activities to be announced in Telegram.