geNFesT 2023 Takes You Beyond Pixels

The world is witnessing an unprecedented revolution in digital assets, and geNFesT 2023 is set to be the ultimate physical NFT festival, going beyond pixels to explore the real-world value of NFTs.
Organized by 3six9, a pioneering NFT marketplace, geNFesT promises to be a captivating event that will bridge communities and ignite the imagination of NFT enthusiasts worldwide. 3six9 aims to revolutionize the NFT landscape by providing a future-proof decentralized application for digital assets. By merging the realms of Web2 and Web3, 3six9 creates immense value for industries while nurturing a thriving community. The event offers attendees a chance to witness firsthand how this platform empowers users to explore, create, and curate their own NFT masterpieces.
Consortium 21 is thrilled to be the strategic partner of geNFesT 2023 and part of the forefront in bringing Web3 technologies into our daily lives.
From June 30 to July 1, 2023, geNFesT will transform Digital Penang in Malaysia into a hub of innovation, education, and entertainment.
A Fusion of Technology, Art, and Community Engagement
geNFesT is more than just a conference; it's an electrifying fusion of technology, art, and community engagement. The event features a wide range of activities, including ideathons, studio sessions, exhibitions, workshops, and a music competition. Attendees can immerse themselves in the latest NFT trends and technologies, learn from industry experts, and connect with like-minded individuals.
Unveiling the Potential of NFTs
The festival's core objective is to EDUCATE, ENTERTAIN, ENGAGE, and EXCITE visitors by showcasing the limitless possibilities of NFTs and Web3 adoption. Panel discussions at geNFesT cover various topics, such as NFTs, AI, Global Macro, Web3, and venture capital. By bringing together creators, collectors, and enthusiasts from around the world, geNFesT creates a platform for knowledge-sharing and sparks a dynamic transition toward the future of digital assets.
Unforgettable Experiences Await
Attending geNFesT offers a unique opportunity to unlock the future of NFTs and immerse oneself in a captivating blend of technology, art, culture, and lifestyle. The festival's DNA encompasses gaming, metaverse experiences, traditional games, brand showcases, multidisciplinary art forms, digital and physical collectibles, F&B delights, and more.
With an impressive lineup of SPEAKERS, including renowned experts like Sheldon Dearr, Antonio Morales, and Ryan Liew, attendees can expect to gain valuable insights into the world of NFTs and blockchain technology.
Prepare to be captivated by two remarkable visionaries at geNFesT 2023 – Julianne Tan and Joon Chew. These esteemed speakers from Consortium 21 will share their expertise, insights, and groundbreaking ideas, inspiring you to embrace blockchain technology's transformative potential.
Julianne Tan: A Multifaceted Talent Empowering Others
Serving as the Executive Director of Consortium 21, Julianne continues to make a profound impact through her expertise and multifaceted talent.
Renowned as a multi-awarded celebrity emcee, Julianne's captivating presence and remarkable skills have made her a sought-after host for various events. Her versatility as an artist extends beyond emceeing to acting in local dramas, movies, and stage productions, recording songs, and participating in TV commercial shoots.
Beyond her entertainment career, Julianne has been an ambassador for numerous brands, showcasing her influence and connection to different industries. Her commitment to empowering women and promoting peace is evident through her involvement as an ambassador for the 5th Woman Glamour Awards and as a judge for Miss and Mrs. Malaysia Universe of World Peace.
With her passion for radio broadcasting, Julianne has also worked as a DJ for notable programs such as "Her Entrepreneurial Route" is at BRadio. As the Secretary General of the Malaysia China Performing Arts Industry Association, she actively contributes to the growth and development of the performing arts.
At geNFesT, Julianne will bring a wealth of experience and inspiration to the stage. Don't miss the opportunity to hear her engaging session and gain valuable insights from her vast expertise across different creative and entrepreneurial domains.
Joon Chew: Pioneering the Integration of Web3 Technologies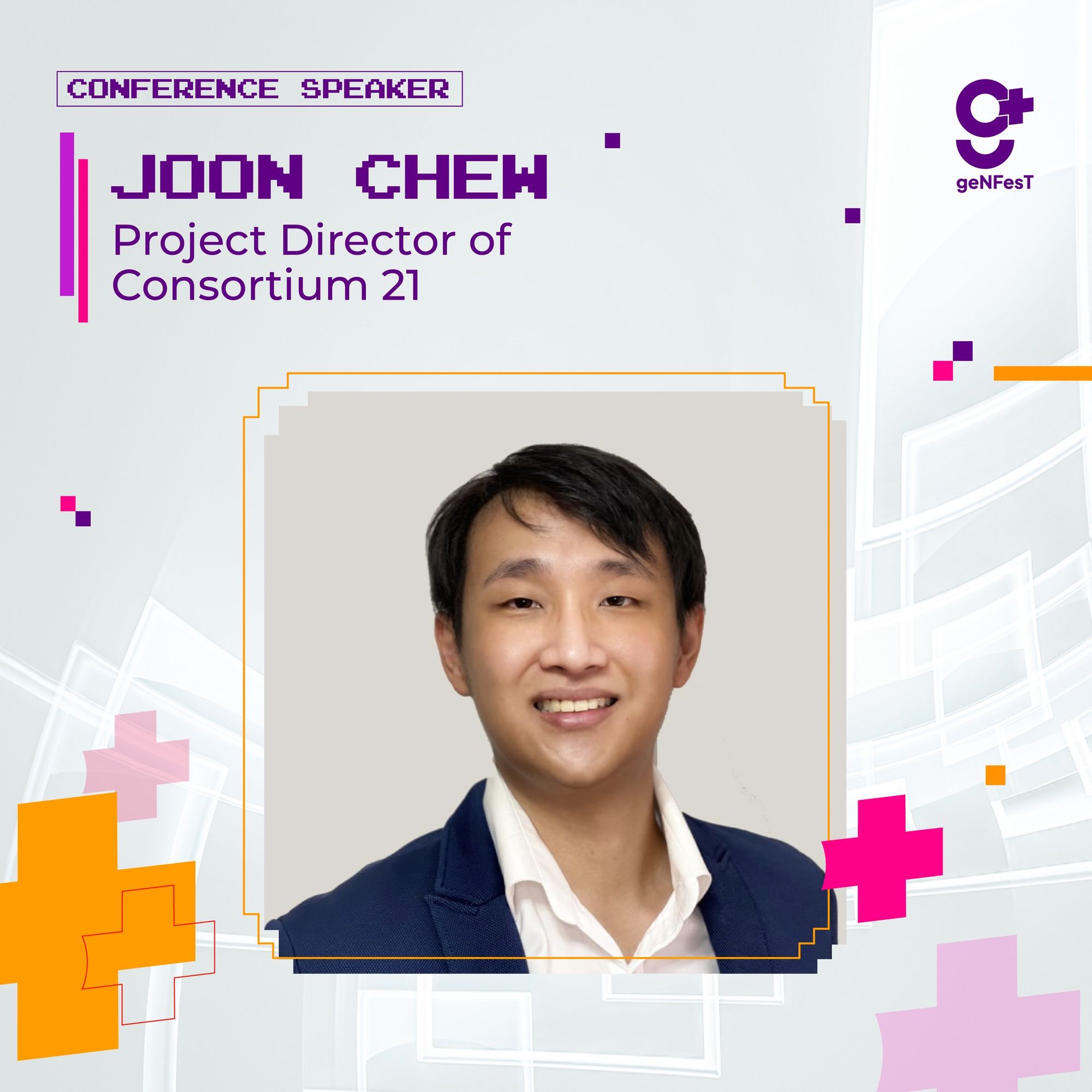 Joon Chew, the visionary Project Director at Consortium 21 Sdn Bhd, is on a mission to revolutionize our daily lives by seamlessly integrating Web3 technologies. With his extensive experience in project management and problem-solving, Joon has achieved remarkable outcomes across diverse industries.
From spearheading blockchain-powered initiatives to managing NFT projects, Joon's leadership skills and technological acumen have propelled him to the forefront of innovation. Join us at geNFesT and seize the opportunity to learn from Joon as he unveils the endless possibilities of blockchain technology and NFTs. Discover how it can enhance our standard of living and grow your business.
With an expected attendance of 5,000 passionate individuals, geNFesT is a not-to-be-missed event that will shape the future of NFTs and Web3 adoption.
Secure your spot now <insert link genfest.xyz> and be part of an unforgettable experience where imagination meets innovation. Join the geNFesT community and witness firsthand how NFTs are transforming industries, empowering creators, and transcending the boundaries of the digital realm.
For more details about geNFesT 2023, visit genfest.xyz.
Stay updated with the latest news and announcements by following geNFesT on Facebook.