Consortium 21's NFT Use Case #4: Art and Memorabilia - AEON x Merdeka65 NFT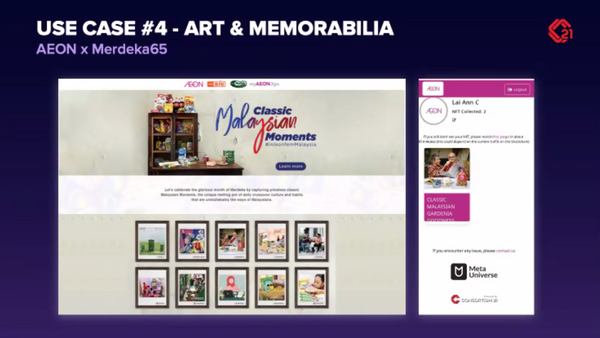 Non-Fungible Tokens (NFTs) have changed the game of digital asset ownership.
Artists finally get the recognition they deserve for their hard work.
And art enthusiasts get the chance to own unique pieces authenticated as scarce.
NFTs are making art owning more exciting than ever.
And today we're showcasing C21 Use Case #4: Art and Memorabilia.
In 2022, AEON, a popular retail chain in Malaysia, partnered with C21 and Meta Universe to launch a limited-edition Merdeka NFT collectibles campaign to celebrate Malaysia's Independence Day.
C21 was chosen as the NFT solution provider for AEON's Limited Edition Merdeka NFT collectibles.
The campaign featured 10 different artworks by 10 local artists, each depicting a classic Malaysian Moment.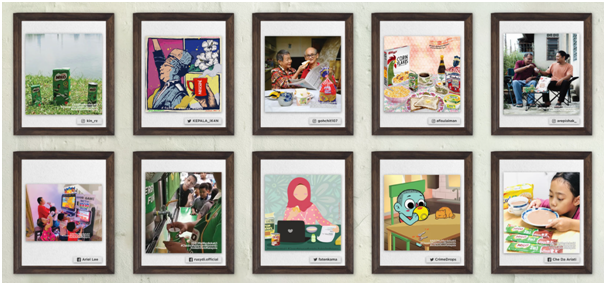 AEON launched a competition to select the top 10 artworks minted as NFTs and offered to customers who spent RM100 or more at AEON.
Qualified AEON consumers then uploaded their receipts to redeem a FREE NFT of the classic Malaysian Moments between 19 September 2022 and 16 October 2022.
Here are further details: https://www.aeonretail.com.my/merdeka-2022/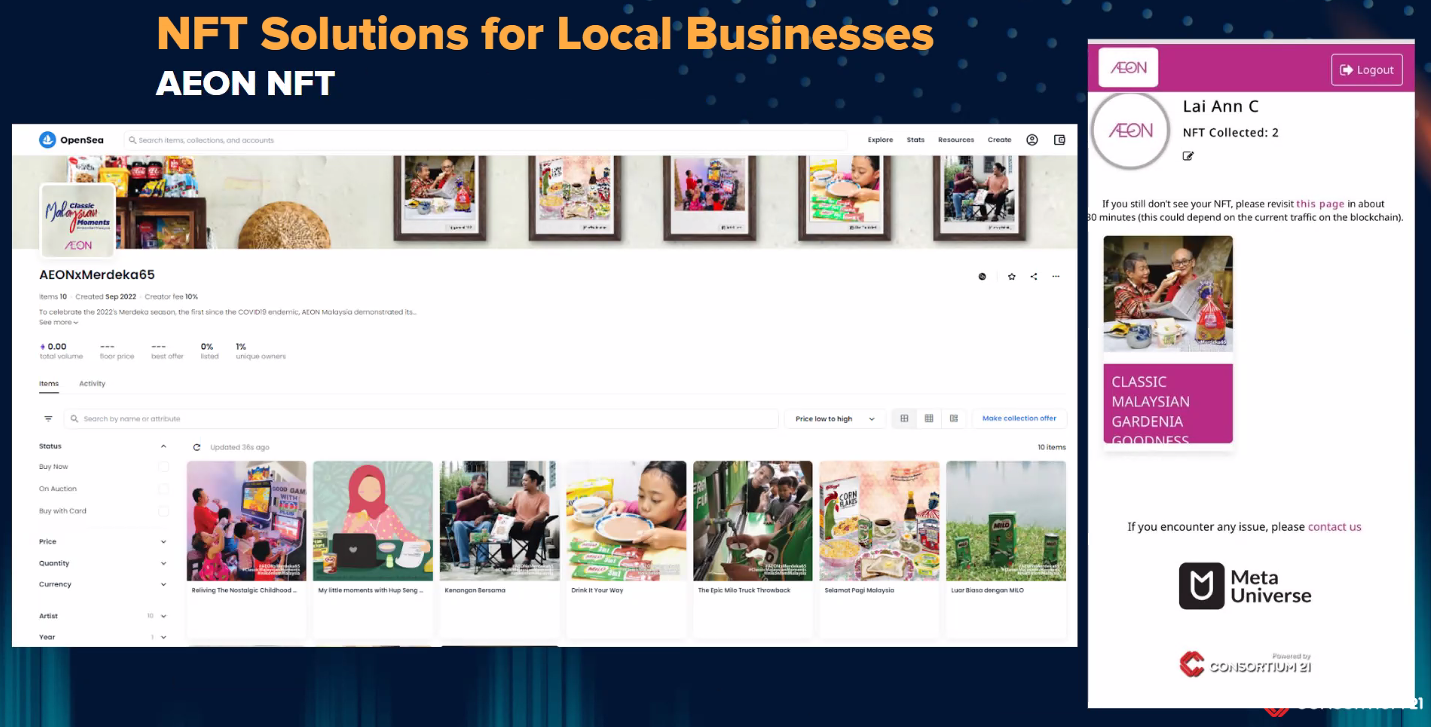 One of the key benefits of owning an NFT is it provides a level of scarcity and verifiability that is not possible with traditional art forms.
This is because NFTs are based on blockchain technology, which provides an immutable ownership record and prevents duplication or fraud.
Furthermore, if the artist behind the NFT becomes popular in the future, the value of the NFT is likely to increase significantly.
In conclusion, the partnership between AEON, Consortium 21, and Meta Universe is a great example of how NFTs can be used in the art world to promote local artists and offer art enthusiasts a unique and exclusive opportunity to own a piece of art that is scarce and one-of-a-kind.
As NFTs continue to gain popularity, we can expect to see more innovative use cases for this revolutionary technology in the art world and beyond.
C21 offers your business a chance to experience cutting-edge NFT solutions.
Reach out to their Chief Strategy Officer, Kenneth Choo, for a free discovery call to discuss how NFTs can benefit your organization.
Don't miss out on this opportunity. Schedule your free discovery call with Kenneth now.