Consortium 21's NFT Use Case #3: Charity/Donation - Juang The Movie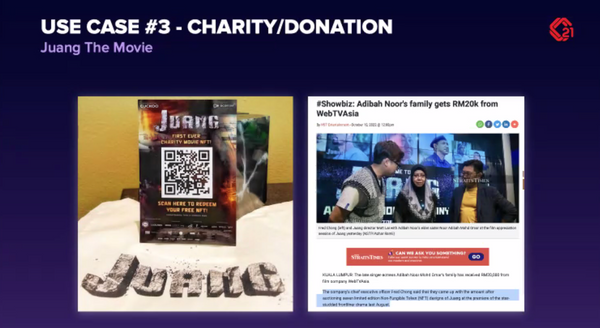 Did you know NFTs can also be used for a good cause?
This brings us to the C21 Use Case #3 i.e. Charity/Donation.
And the Gala Premiere of the JUANG movie is a perfect example of this.
JUANG is Malaysia's biggest film production that honors the fight against Covid-19.
Consortium 21 has provided an NFT ticketing solution for the Gala Premiere of the JUANG movie, where guests can mint an NFT very easily.
Upon scanning the QR code, they will receive an NFT attached to their movie ticket.
But the best part is that another set of NFTs is also available for sale, with the proceeds going to charitable organizations.
This is a wonderful initiative that not only promotes the use of NFTs but also supports noble causes.
A total of RM20,000 in funds collected from selling limited edition NFTs designs of Juang were passed to Adibah Noor's family.
According to WebTVAsia CEO Fred Chong, new technologies such as NFTs will open up more opportunities in the local creative industry and support those in need.
You may ask,
"Why to use NFTs for donation?"
The answer lies in the challenges faced by charitable organizations in collecting funds.
Many potential donors may hesitate to donate due to concerns about transparency and whether their donation will have an impact.
NFTs solve these issues by offering complete transparency, with every transaction recorded on the blockchain.
This ensures all funds collected go to the right place and are used for the intended purpose without any fraction disappearing along the way.
JUANG is a fantastic example of how NFTs can positively impact society.
By using NFTs, not only promotes the use of this technology but also supports various charitable organizations.
We hope more businesses and organizations follow in the footsteps of JUANG, leveraging the power of NFTs to create a positive impact on society.
Special thanks to WebTVAsia and Verofax Asia for having us at the GALA PREMIERE of JUANG.
If you're interested in exploring the innovative NFT solution for your business, C21 can help. Their Chief Strategy Officer, Kenneth Choo, is available for a free discovery call to discuss how NFTs can benefit your organization.
Don't miss out on this opportunity. Schedule your call now here.